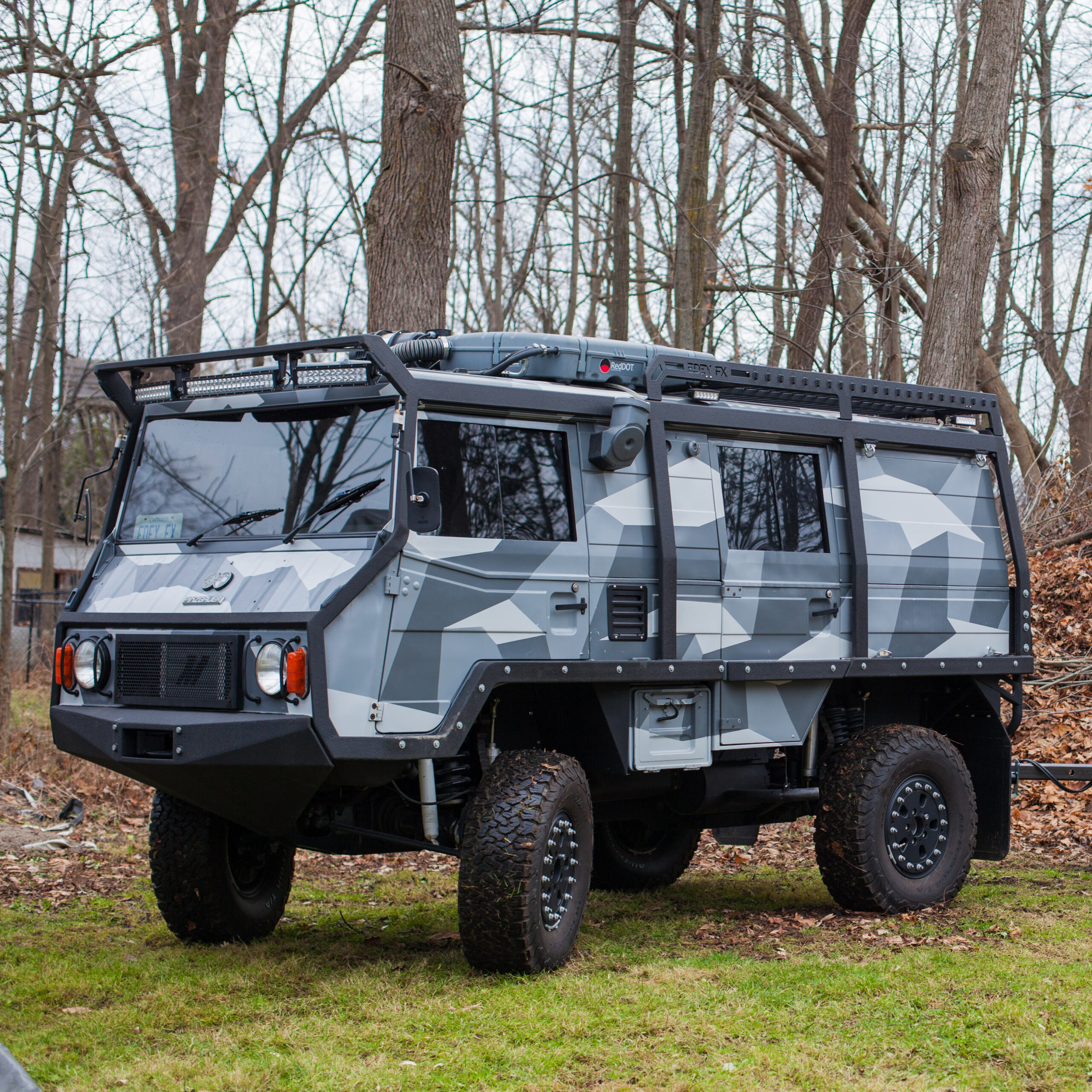 Edey FX undertook the modernization of a Pingauer 710K for the purposes of demonstrating the integration of an Electronic Counter Measures (ECM) system. All original vehicle components that were reused were media-blasted and repainted, along with an inhouse designed steel external frame, a swing out spare tire mount and a front bumper. The body was lifted 7.5 cm to improve tire clearance. Hutchinson military bead lock rims widened the overall stance by 15cm. A 5 cylinder turbo diesel engine and manual transmission were integrated with a custom transfer case. The suspension, brakes, wheels, and lighting were updated to modern standards. All the components were desgiend and fabricated in our secure, highly equipped 6000 square foot facility.
An external steel frame and roof rack was designed to bolt on to existing mounting locations on the Pinzgauer 710K. The additional 5cm of width per side accommodated the added wheel offset. The frame was designed to be removable if future updates were required.
The custom front bumper and skid plate were designed to secure to existing Pinzgauer mounting locations. The final sheet metal design began with a carboard mock up to test the fit and proportions. Our team of designers then converted these findings into a CAD model. Our in house CNC plasma cutting and welding facilities were used to fabricate the final design. 
The original Pinzgauer 710K body was sandblasted to bare sheet metal before a primer was applied. Using a projector and masking tape, a custom urban camouflage scheme was applied. 
The original Pinzgauer frame was media-blasted and epoxy painted. New engine and transmission mounts were welded to the back bone to accommodate the new driveline.  
The original air cooled gas engine was upgraded with a Mercedes turbo diesel engine. The engine was reverse mounted to place the transmission and it's shifter next to the driver. Reverse mounting the engine also allowed for easier serviceability from within the vehicle with the engine cover removed. A custom transfer case was designed in CAD and machined on our CNC milling machine.  
CAD Design: All of our products have been designed in CAD to meet our clients requirements and specifications. Our team of designers are available to make modifications to any of our products to suit your requirements. If you have an idea for a new product you wish to have designed or manufactured, please contact us.
Contact for product inquiries, pricing and availability